who runs this...
---
brickbreakr
22 year old emo queer, they/them. vampire robot. red eyeliner or bust. unstoppable hyperfixation machine. here's how the mad gear and missile kid can still win
---
angel duster
dancing queen, young and sweet, only 17. she/they, faerie dyke. revenge and bullets are the only eras. don't forget you're here forever
Frank Iero's Bands
02/8/2020, by Angel Duster
This is going to be an on-going list of all of rhythm guitarist Frank Iero's side projects, spanning from 1993 to present! I started with the smaller bands that we know little about, so we can delve into the bigger ones later.
HYBRID: ?
As of right now, all I know about this band is that it was a precursor to I Am a Graveyard.
I AM A GRAVEYARD: ?
This was a very early concept of Iero's, it was what he envisioned his later project Pencey Prep to be. As far as I know, it was created by Frank, but he left after the end of Pencey. It is a very muddied timeline. A very common misconception is that I Am a Graveyard is a song by Pencey Prep, it isn't! It is a totally separate project.
See here:
i am a graveyard https://t.co/cPJrVEiUNw

— frnkiero: Party Dad (@FrankIero) November 21, 2016
FrankIero: "i am a graveyard"
Using context clues from the replies, and my own memory, the person he is replying to is asking if the video he posted (see below) is Pencey Prep or I Am a Graveyard.
There is only one recording of a live performance, one that he did with Ray Toro and Matt Pelissier, and members of Pencey Prep. The named are members of MCR! This is a later recording of their only known song "Attention Reader." The band had been defunct for possibly two years at this point.
Take a look:
GIVE UP THE GHOST - 1998 - 2004
Also known as American Nightmare, American Nothing, and simply AN. Frank played guitar, and was not founding member. There is very little known about his involvement with this band, if he was involved at all.
SECTOR 12: 1993 - ?
This was Frank Iero's very first band, starting in his freshman year of high school.
FRANKIEROMUSTDIE: "i found an old box of vhs tapes this weekend. lots of crazy memories flooded back. one of the tapes included the first show i ever played. i was a freshman in high school and i met @johnhambonemcguire who was a senior, he told me we were starting a band and that he booked us a show at our school for the junior ring dance in a month. i wasn't old enough to stay the whole night, but i got to play the show and the rest, as they say, is history.
thank you @johnhambonemcguire xofrnk"
We know next to nothing about this little band, but here's what we do know:
- The attached post includes photos and a video from the first ever show that Frank played
- John 'Hambone' McGuire, future bassist for Pencey Prep and Leathermouth, told Frank to join his band
- The show was at his high school's junior ring dance
- He was only given a month to prepare
- Frank was not old enough to stay for the entire dance, only the performance.

Nada Recording Studios, who you may know from this video, commented this on the post: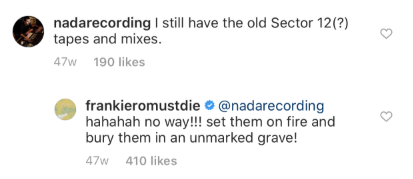 NADARECORDING: "I still have the old Sector 12(?) tapes and mixes."
FRANKIEROMUSTDIE: "hahahah no way!!! set them on fire and bury them in an unmarked grave!"
This band obviously lasted longer than the show, but we sadly do not have any access to those tapes/mixes for the time being. It is definitely interesting to think about what they might have sounded like!
PENCEY PREP: 1998 - 2002
Pencey Prep was the first "legit" band Frank was in. They blended many aspects of the NJ music scene at the time: punk, emo, hardcore, and even pop. For some more examples of that, check out Midtown and Thursday.
It consisted of:
- John McGuire: Bassist (was in Hybrid and Sector 12 with Frank. Joined I am a Graveyard afterwards)
- Neil Sabatino: Guitarist and vocalist
- Frank Iero: Guitarist and lead vocalist
- Shaun Simon: Keyboards (joined I am a Graveyard with McGuire)
- Tim Hagevik: Drums
- Bruno Rocha: Backing vocalist (was in Hybrid and Sector 12)

If you attended the average American public school, you'll understand the reference that is the band's name. It is taken from the book "Catcher in the Rye." The main character, Holden Caulfield, was expelled from this very school.
Originally, John wanted the band to be called "Whatchu Talkin' 'Bout, Willis?" as a reference to Gary Coleman's famous catchphrase in the show "Diff'rent Strokes."
The band was started due to all of the members experiencing heartbreak, and/or horrible relationships. They were signed to Eyeball Records, as was My Chemical Romance. They played with New Found Glory, The Strokes, Brand New, and even Thursday.
pretty sure around the same time as the Nada Surf/AAHP show Pencey played Maxwells in Hoboken w/Longview & theStrokes. gotta find that flier

— frnkiero: Party Dad (@FrankIero) August 28, 2016
FrankIero: "pretty sure around the same time as the Nada Surf/AAHP show Pencey played Maxwells in Hoboken w/Longview & theStrokes. gotta find that flier"
They started work on their new album Heartbreak in Stereo, released in November of 2001. After that, they fired vocalist Rocha in December of the same year. They then released the EP Long Walk to Forever, and then pretty much self-imploded. Sabatino was asked to leave, and Hagevik had knee problems.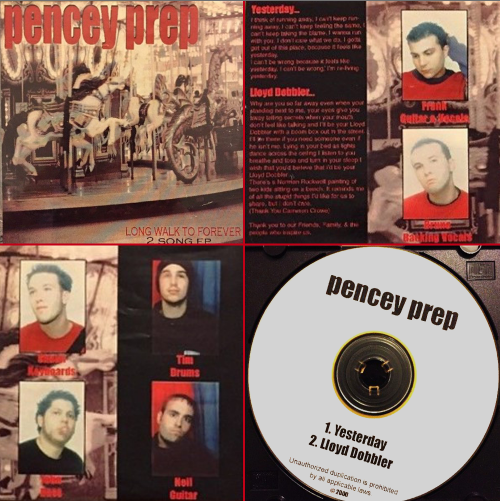 "Long Walk to Forever CD," via Discogs
Here is one of their shows, playing Yesterday from
Heartbreak in Stereo
(a personal favorite song of mine):
To be continued...
---
---
pieces of flair...
---
our affiliates!

---

Here is our button code:
---
become an affiliate...
(we would like some affiliates... to get your button here, send us an email!)