who runs this...
---
brickbreakr
22 year old emo queer, they/them. vampire robot. red eyeliner or bust. unstoppable hyperfixation machine. here's how the mad gear and missile kid can still win
---
angel duster
(not pictured)
dancing queen, young and sweet, only 17. she/they, faerie dyke. revenge and bullets are the only eras. don't forget you're here forever
Record Store Day
02/27/2020, by Angel Duster
Every year, in April, since 2008, record stores across the world participate in Record Store Day, an unofficial holiday celebrating the unique sale of vinyl records. It is a favorite time of year for me.
Members of My Chemical Romance have participated multiple times on this day: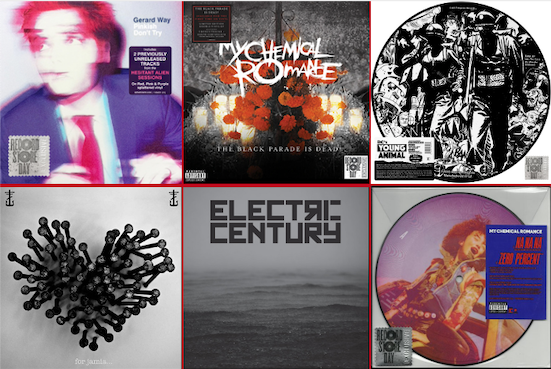 - Gerard Way's Pinkish / Don't Try 12''
- My Chemical Romance's The Black Parade is Dead! 2 x LP
- Ray Toro and Gerard Way's DC's Young Animal 12''
- Frank Iero's For Jamia... 7''
- Electric Century's Electric Century 10''
- My Chemical Romance's Na Na Na / Zero Percent 7''

And this year, on April 18th, we are possibly getting...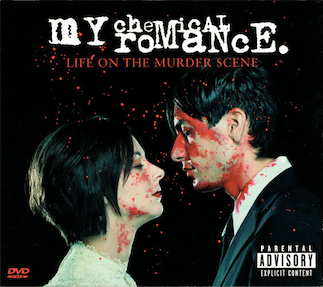 ... a vinyl pressing of Life On The Murder Scene! This vinyl will include live performances of songs from I Brought You My Bullets, You Brought Me Your Love and Three Cheers For Sweet Revenge, and two demos!
This is the first time this has been made into a vinyl, so this is pretty important. I can only speculate if it will be released in a specific colorway, perhaps blood splatter, à la the special edition of Revenge? Again, this is all rumoured, but it's nice to have some hope.
Record Store Day releases are occasionally available at Hot Topic, if you have any local to you. I always recommend supporting local record stores, rather than big stores.
pieces of flair...
---
our affiliates!

---

Here is our button code:
---
become an affiliate...
(we would like some affiliates... to get your button here, send us an email!)