who runs this...
---
brickbreakr
22 year old emo queer, they/them. vampire robot. red eyeliner or bust. unstoppable hyperfixation machine. here's how the mad gear and missile kid can still win
---
angel duster
(not pictured)
dancing queen, young and sweet, only 17. she/they, faerie dyke. revenge and bullets are the only eras. don't forget you're here forever
UPDATE: Record Store Day
03/06/2020, by Angel Duster
Within the last post, it was rumoured that Life On The Murder Scene would be made a Record Store Day exclusive, and I speculated it would be clear vinyl, with red splatters.
Guess what was announced yesterday?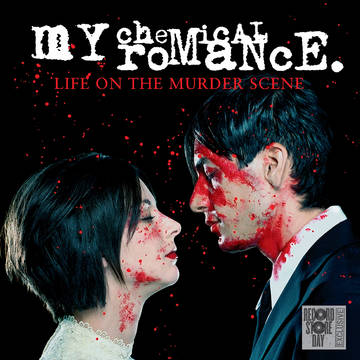 "The Murder Scene," via RSD
The RSD 2020 List!
Now simply dubbed The Murder Scene, it is limited to 8000 copies, and is clear with red splatter! My theories are pretty good, right?
Record Store Day 2020 is, yet again, April 18th, so save your money till then! On average, RSD releases range from $15 to $35, so be mindful of that.
Record Store Day releases are occasionally available at Hot Topic, if you have any local to you. I always recommend supporting local record stores, rather than big stores.
pieces of flair...
---
our affiliates!

---

Here is our button code:
---
become an affiliate...
(we would like some affiliates... to get your button here, send us an email!)